Puppy School Instructor's Course
There's more to running successful puppy classes than just socialisation sessions!
Teaching puppy classes requires specific expertise, which as a minimum, should include an in-depth knowledge of dogs, dog behaviour and learning theory. Most importantly, it requires a thorough understanding of puppies and their development process.
There are many organisations offering puppy classes in varying formats.  With this comes mixed standards and quality that separates the classes between very well run classes, to badly run classes. Here are some of them:
The knowledge and experience of the instructor teaching the class

Course curriculum – what are you offering and what are you actually providing. Does it cover what it should?

Correct balance between teaching, socialising and selling products- is there too much playtime or too much talking?

Are puppies allowed to run amok, creating issues that, in some instances, are permanent?

Outcome of the course ie. Have your clients actually come away learning something about their puppies, or worse still, have some puppies developed behavioural issues due to mis-management during the course?
The most important developmental period for puppies is between the ages of 5-16 weeks.  We call this the Critical Period of Developmentbecause whatever happens (or doesn't happen) during this time to the puppy, whether good or bad, is permanently imprinted in him or her forever. As such, the reality is that your puppy school program can literally 'make or break' a puppy's future development.
Therefore since many puppy schools cater for puppies from 8-16 weeks of age, it would make sense that the program you are offering to your valued customers/clients is conducted by qualified trainers.
Another benefit will be in keeping consistency amongst your trainers. Have the confidence in knowing that should you require another team member to fill in for the regular puppy trainer, they will know exactly where the class is at and can skilfully slide in and continue with the classes, delivering the same consistent message.
We recommend that only the person to go anywhere near a puppy class should be the person with the highest degree of knowledge, expertise and experience with puppies.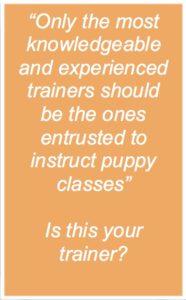 ---
With all this in mind, Trish Harris from Noble Canine Training, has put together a formal training program to teach your puppy trainers the important basic fundamentals about puppy development and behaviours, teaching basic exercises and other necessary elements when working with, and instructing, puppy classes.
Whether your are a pet supplies sales driven organisation, a veterinary clinic or other pet related business/service which has regular contact with dogs/puppies, this program is designed to include elements which will compliment your line of business and ensures that your team are well educated when it comes to handling, teaching and working with puppies.
This course covers an array of topics to include:
Understanding puppy development and all relevant stages

Interpreting canine body language and communication

Genetics and it's affect on puppy behaviour

Dog breeds and traits

Managing common puppy behaviours

Puppy health (to include full nutrition component from Certified Small Animal Nutritionist – non brand related and grooming by professional dog groomer)

Learn all about providing broad-spectrum socialisation activities for puppies

Safe and controlled playtime sessions

Aggressive puppies – how to actually assist these puppies and their owners

Learn to teach an array of basic obedience skills to puppies to include: sit, drop, recalls, loose lead walking, leave it, food bowl work, go to mat, touch desensitisation work etc

Ideas on creating a balanced course curriculum to include all aspects of socialisation, training, information and much, much more

Practical day which includes class set up, teaching and practicing all of the necessary exercises for puppy classes, appropriate techniques and guidance on running socialisation and exposure activities. Also includes nutrition talk from Certified Small animal nutritionist and grooming talk from professional groomer. (Practical session only available with the Face to face course held in Melbourne, Victoria)
You  have the option of either taking this course either as an online course or the face to face course.
FACE TO FACE COURSE:
The course is run over 2.5 days and consists of full practical components which covers the nutrition, grooming and teaching of basic obedience and a heap of socialisation activity ideas.
The course has been offered since 2012 both in Melbourne and Canberra and some vet clinics have enrolled all of their staff, to include the Veterinarians themselves, to learn all they can about running safe, fun and informative puppy classes.
Contact us for your copy of our course proposal if you are interesting in participating in our next face to face Puppy School Instructor's Course.

Next face to face course details:
Note: Finish times may vary

Venue:
TBA

Cost:

For the Face to face course Contact Us for further details and to be placed on the list for the next upcoming course!
ONLINE COURSE
Cost: AUD$220
We invite you to consider the Puppy School Trainer's" course for your current and future puppy school instructors.